---
Lifestyle Blog's:
FB - Groups:
---
Optimal Health Menu:
Information regarding the
"pro & cons", as well as the strategies and solution for the "recognition" of Natural Therapies into the
Conventional Health System:
Deloitte Access Economics
Report, the real value of
Natural Medicine.
Can we compare the Medical with the Natural Therapy System?
...
---
---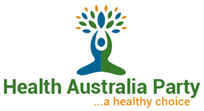 Gaining representation on the floor of the Senate for accurately and fairly at a Federal level.
In 2016 the "Health Australia Party" is going to do everything to ensure this representation happens.
---
Resources:
Find Natural Preventative Health Care Practitioners:
Natural Health Lifestyle Directory
---